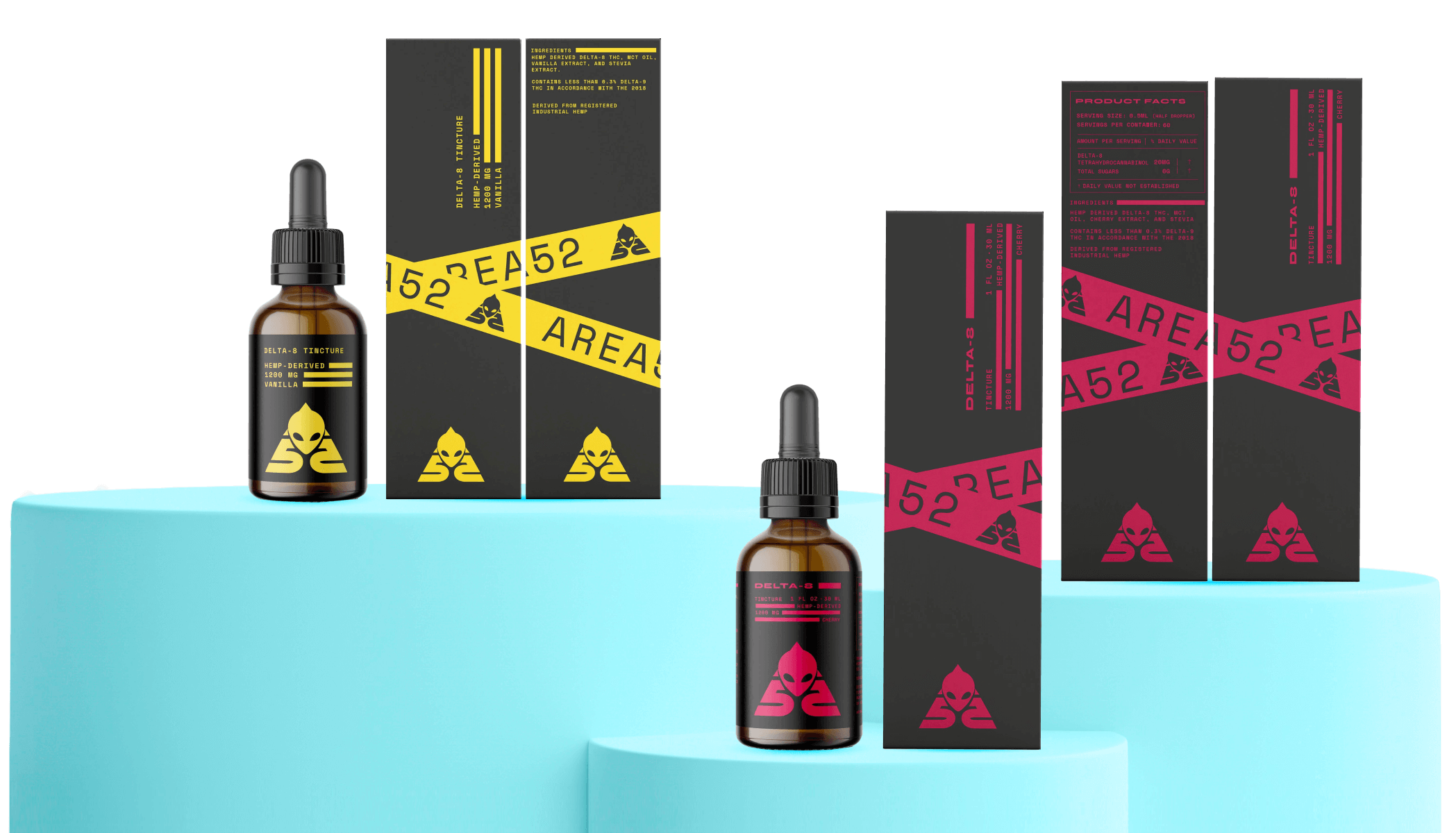 Delta 8 TINCTURES
If you've ever tried an edible, you've probably noticed there's something about them that just hits so much harder than usual.
This tincture is a perfect example of that. We infuse a carrier oil with our premium delta 8 distillate to leverage the body's fat-absorption pathways and optimize the dose efficiency. Tinctures take longer to set in, but last longer and hit harder than any other category.
About Our Delta 8 THC Tinctures
Area 52 delta 8 tinctures come infused with 1200 mg of broad-spectrum delta 8 THC in a vanilla-flavored liquid. That provides a dose of 40 mg per serving, or nearly 1.5 mg per drop.
These tinctures are also sweetened with stevia to improve the taste without bumping up the calories.
We also reintroduce a variety of terpenes naturally produced in the hemp plant for added synergy (called the entourage effect). Our proprietary blend contains linalool, myristicin, lavandin, bisabolol, and about a dozen other cannabis-derived terpenes.
This tincture comes from organically grown hemp that's been extracted using several processes, including distillation, winterization, recrystallization, and decarboxylation to provide a pure and potent product.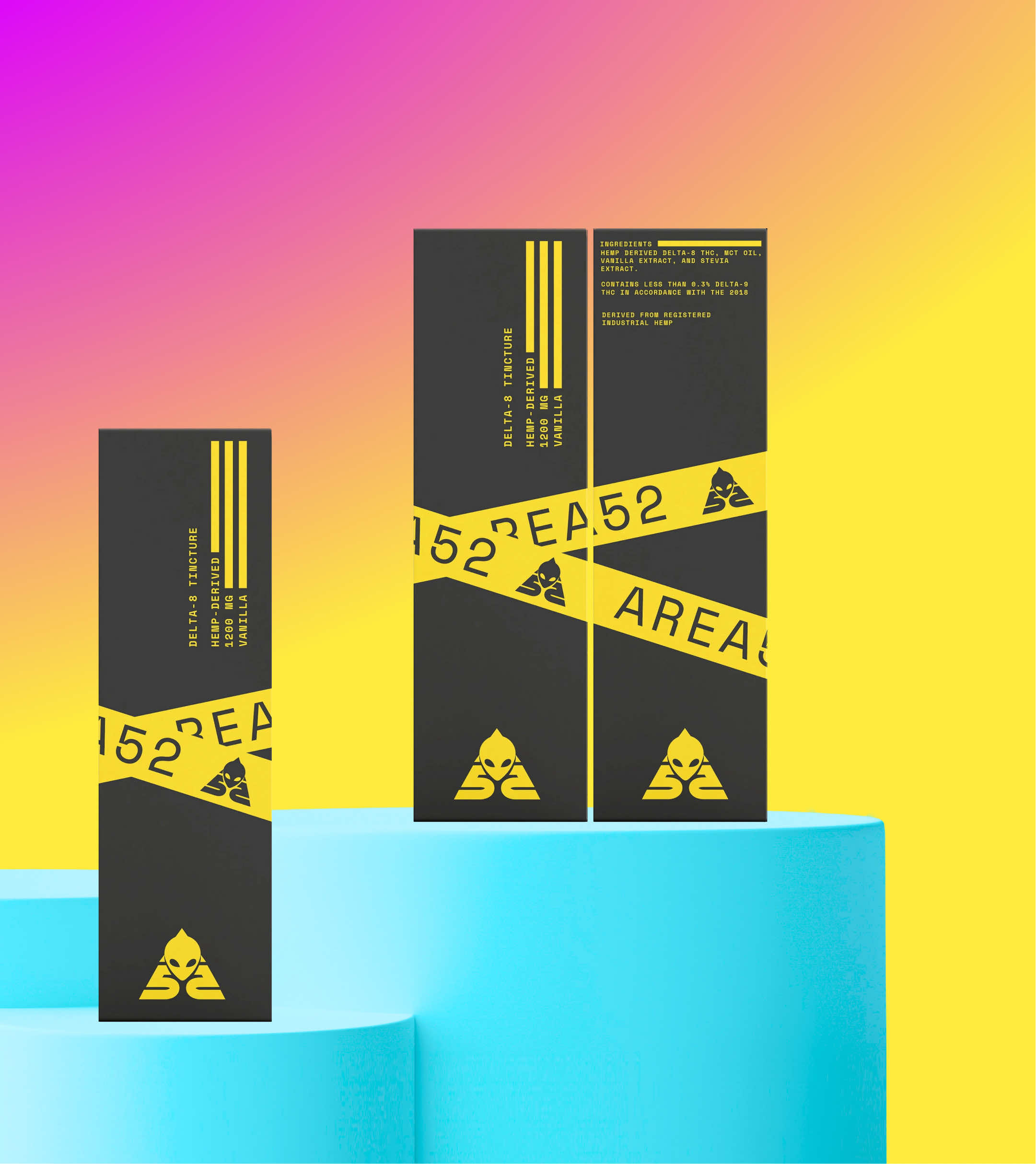 Delta-8 THC Tinctures FAQ
What Are Delta 8 THC Tinctures?
A tincture is a liquid form of cannabis extracts. Originally, tinctures were made using ethanol extraction and have been broadly used for their health benefits and relatively fast-onset time (usually within 45 minutes).
Our tinctures are extracted from hemp before being further refined to isolate and concentrate delta 8 THC. Unlike CBD tinctures, delta 8 THC products are mildly active and thus should be taken with caution.
Most users also report a delay in the effects compared to CBD tinctures. Sublingual CBD can take 20–30 minutes to kick in, while some of the user reports are talking up to a 2-hour delay. As a result, always start at the low end, gradually increasing the dosage to determine your tolerance and avoid the side effects.
How Do I Use Delta 8 THC Tinctures?
We supply our delta 8 THC tinctures with a dropper to make dosing easier. The extract is diluted in MCT oil to provide a dose of 40 mg of active delta 8 per dropper (equal to 1 milliliter).
Squeeze the pipette so that the dropper fills with delta 8 THC — you should see the oil fill about 75% of the pipet.
For a 40 mg dose, take the whole thing. For a 20 mg dose, take half. For a 10 mg dose, take a quarter.
You get the idea.
Place the oil under your tongue and hold it there for 60 seconds. From there, the tincture will absorb directly into the bloodstream through the tiny blood vessels in the mouth. This is called sublingual administration — it's used to feel the effects of the tincture more quickly, but you can also swallow without first doing this step.
Most users report the effects last for up to 6 hours, peaking approximately 3 hours after ingestion.
How Will Delta 8 THC Tinctures Make Me Feel?
As mentioned, delta 8 THC is an active cannabinoid — although it's only about half as strong as delta 9 THC. Most users call D8 a "diet cannabis" or "cannabis light."
Despite its mild temper, D8 has virtually the same effects as D9 when taken at the right dose. There are a few subtle differences.
D8 is more relaxing than D9. Low doses (less than 20 mg) are popular for use while working or studying. It helps mute some of the noise in your mind that's distracting you from your work or study.
In higher doses (over 20 mg), the body load becomes much stronger, relaxing the muscles and providing a sense of peace and relaxation.
Given the moderately intoxicating effects, people using delta 8 THC tinctures should abstain from operating any machinery while using this product.
Are Delta 8 THC Tinctures Legal?
Delta 8 THC tinctures are legal under federal law and many states accept it, as it's 100% derived from industrial hemp plants and does not contain any delta 9 THC.
Delta 8 tinctures usually come as a broad-spectrum extract, featuring a distillate infused with terpenes. However, we do not guarantee that this product is legal in every state.
Some states have local laws that conflict with Section 297a of the 2018 Farm Bill. If we find that our delta 8 THC tinctures are illegal in your state or territory, we may refuse to ship and provide you with a refund (excluding any processing fees or time costs incurred).
Are There Any Side Effects of Delta 8 THC Tinctures?
To date, there have been no reports on any significant side-effects resulting from delta 8 THC consumption. That being said, delta 8 is an active compound, so taking too much of it may result in dizziness, sedation, and fatigue. Similar to other cannabinoids, delta 8 THC may cause dry mouth and dry eyes.
How to Find a High-Quality Delta 8 THC Tincture?
We're going to be frank here — there are a lot of scams and shockingly low-quality delta 8 products on the market today. We know because we've used them before.
Without mentioning any names, we urge you to check the following points whenever ordering any delta 8 products to ensure you aren't either ripped off or mistakenly order products that are unfit for human consumption:
Are there third-party tests available, and do they check for both purity and contamination?
Is it extracted with CO2 or, at least, with alcohol? Many companies use cheap, aggressive solvents for extraction, thereby compromising its potential benefits.
Does the delta 8 tincture feature other cannabinoids and terpenes in the formula? Ideally, you want to purchase a broad-spectrum or full-spectrum product to amplify the entourage effect.
Does the brand and its products have a solid reputation among consumers and provide actionable insight into how its delta 8 THC worked for others?
How Do I Store My Delta 8 THC Tinctures?
Delta 8 THC tinctures have a long shelf-life. They can easily last for up to one year without losing significant potency — but only if you store them correctly. Cannabinoids degrade due to exposure to air and light, so it's important that you keep your tinctures in a cool and dark place, such as a cabinet or office drawer. There's no need to store a delta 8 THC tincture in a fridge or freezer.