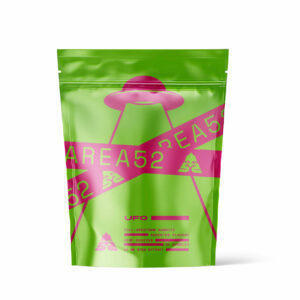 Add to Cart
AREA 52 FREE PRIORITY SHIPPING ON ORDERS OVER 110$ A52 FREE PRIORITY SHIPPING OVER 110$ A52 FREE PRIORITY SHIPPING OVER 110$ Alienize Your Mind
AREA 52 FREE PRIORITY SHIPPING ON ORDERS OVER 110$ A52 FREE PRIORITY SHIPPING OVER 110$ A52 FREE PRIORITY SHIPPING OVER 110$ Alienize Your Mind
AREA 52 FREE PRIORITY SHIPPING ON ORDERS OVER 110$ A52 FREE PRIORITY SHIPPING OVER 110$ A52 FREE PRIORITY SHIPPING OVER 110$ Alienize Your Mind
AREA 52 FREE PRIORITY SHIPPING ON ORDERS OVER 110$ A52 FREE PRIORITY SHIPPING OVER 110$ A52 FREE PRIORITY SHIPPING OVER 110$ Alienize Your Mind
AREA 52 FREE PRIORITY SHIPPING ON ORDERS OVER 110$ A52 FREE PRIORITY SHIPPING OVER 110$ A52 FREE PRIORITY SHIPPING OVER 110$ Alienize Your Mind
When we say these gummies are "full-spectrum," we mean it.
These gummies contain ALL the cannabinoids present in hemp (yes, all of them 😉).
These full-spectrum gummies are federally compliant and strong enough to engage with a headspace outside of the normal sphere of human consciousness – and yes, it's as good as it sounds.
Previously, we've been hyper-focused on Δ8 THC — a relaxing and mellow cannabinoid produced from hemp. We prefer this cannabinoid for late-night seshes — or times where we want to avoid the pesky "weed anxiety".
These are the gummies you'll want to use when attempting to tackle creative problems from a new angle, explore life's deeper meaning, or simply vibing about on your days off.
How We Make Our Full Spectrum UFO Gummies
Our process for making these gummies is actually quite simple… just four steps, starting with raw, freshly harvested hemp plants direct from our California growers.
1. Supercritical CO2 Extraction
We use supercritical carbon dioxide to pull all the cannabinoids from our starting hemp material. It's a slow and tedious process but well worth the wait. Supercritical CO2 means we don't need to use any nasty solvents to remove the cannabinoids.
2. Winterization & Isomerization
Winterization is the proccess of removing the unwanted fats and proteins in the hemp extract. We use ice-cold organic ethanol for this process. It's a crucial step in clarifying the extract to boost the potency & purity.
We then apply gentle heat, reduce the pH, and wait — like three days. At the end of this process, the target cannabinoid concentration spikes to nearly 80%.
3. Recapture
Now that cannabinoid levels are where we want them, we begin the final purification process to remove all the ethanol. As the ethanol is evaporated, it leaves behind a gooey, sticky resin — which is basically liquid gold.
4. Gummies!
The final step is to mix the full-spectrum extract with our gummy base and pour it into some gummy molds. T-minus 5 hours later, we're ready for liftoff.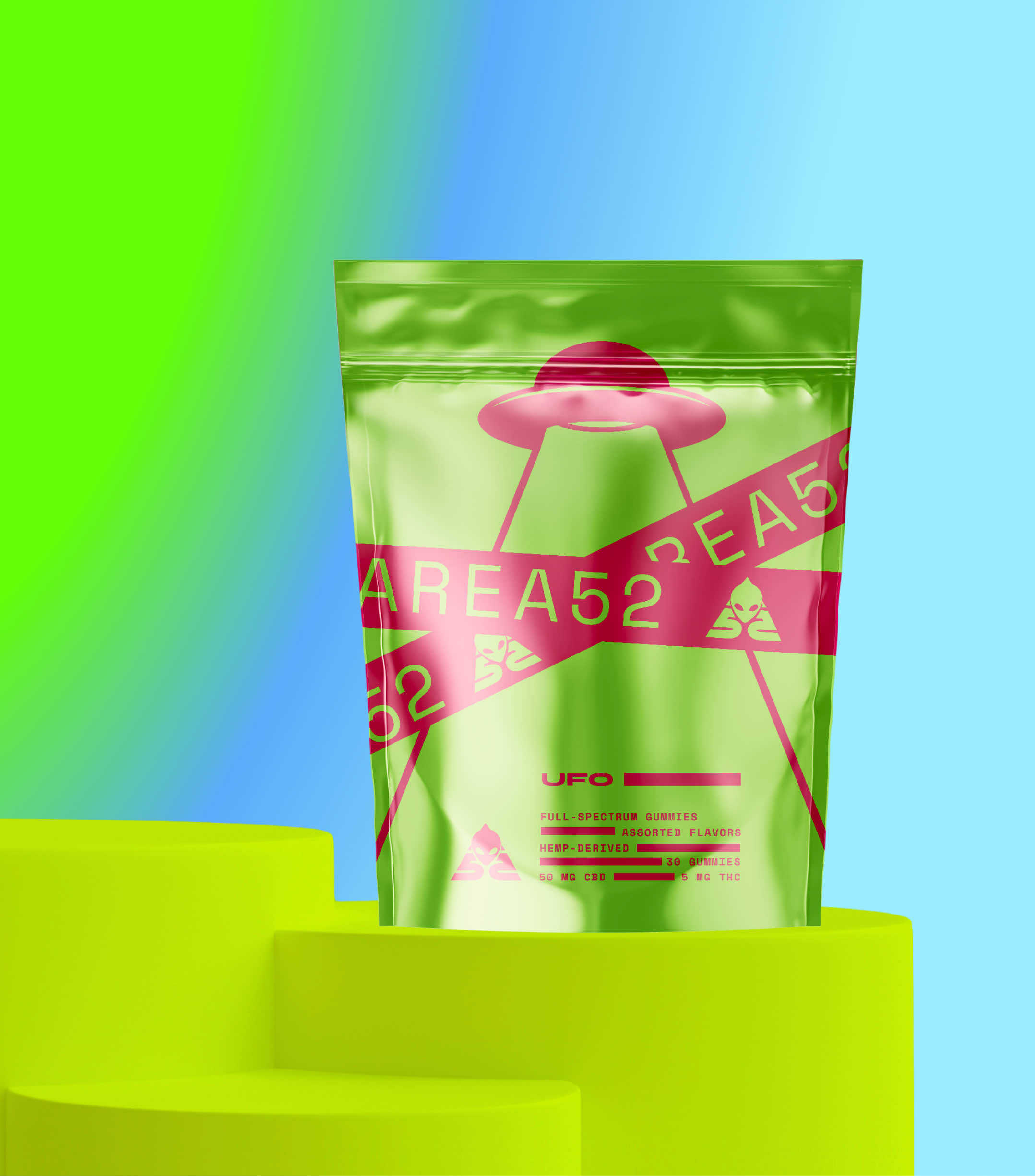 Precautions & Safety
Don't take more than a recommended daily serving. Don't drive or operate any vehicle after taking this product.
Don't use these gummies if pregnant, nursing, or taking medications for a diagnosed medical condition.
Must be 21 years or older to purchase or use.
No Animals Were Injured
While Making These Gummies
All our gummies are vegan-friendly and contain no animal byproducts.
Cannabis reconnects us with the Earth and its inhabitants. We feel it would be an injustice to manufacture gummies that were connected in any way with the suffering of any animals — which is why we've chosen to avoid the use of gelatin in our gummy formula.
But that doesn't mean the texture and flavor have taken a hit either — on the contrary, our plant-based pectin formula and terpene flavorings are F**cking delicious (with a capital F). You won't even notice the difference.
Full-Spectrum UFO Gummies FAQ
Are These Gummies Legal?
Yes! We make all our products from federally compliant hemp — as per the limitations outlined in the 2018 Farm Bill.
These gummies remain below the legal threshold of 0.3% THC.
How Many Gummies Should I Take?
Each gummy contains 60 mg of nano hemp extract containing all the cannabinoids from the hemp plant. It's wise to start with no more than one gummy for your first dose.
Make sure to give the gummy a full hour to kick in before taking any more.
Everybody is different, so listen to your body and only take what you need.
How Should I Store My Gummies?
The best way to preserve the potency of your gummies is to keep them in the container they arrived in. Make sure to seal the lid between each use and keep them in a place that's cool and dark.
If you plan to store your gummies for more than 2 months, you can keep them in the fridge to preserve maximum freshness and flavor.
Will These Gummies Make Me High?
Each of these Full-Spectrum UFO Gummies contains 5 mg of THC.
Everyone has a different tolerance to THC, so it's important to start with a low dose (half a gummy) and work your way up.
Because of the potent synergy present in these full-spectrum CBD + THC gummies, some users may experience a euphoric "high."
This phenomenon is referred to as "the entourage effect."
Where Will Area 52 Ship?
Currently, these gummies are legal in all 50 states — however, laws change quickly, and there are some state regulators that seek to ban hemp-derived products. We'll do our best to keep our products available for anybody within the US who wants premium cannabinoid extracts — but we can't promise it will be like this forever.
In a perfect world, nobody would tell you which plants you're allowed to use and which ones you aren't.
What Our Customers Love About These Gummies