Hemp & CBD Wholesale
Join one of the leading hemp manufacturers in the United States.
Become an Area 52 partner to access wholesale pricing for our entire CBD lineup. We carry a variety of CBD oils, CBD-infused functional gummies, vape cartridges, distillates, and more.
We value transparency, unyielding quality, and exceptional product potency — and so should you.
Join today to get your wholesale code. Available for select retailers and online marketplaces only.
Sign up using the form below.
Who is the Area 52 Wholesale Account For?
Our team works closely with smoke shops, dispensaries, and everything in-between.
Whether you own an independent retail shop or country-wide distribution — we've got a solution for you. We have packages available for businesses of all sizes.
Ask us about our introductory onboarding packages after filling out our wholesale form above.
Why You Should Work With Area 52
Area 52 is one of the leading CBD and delta 8 vendors in the United States with a proven track record for generating sales and return customers.
We run a state-of-the-art production facility in California with strategic partnerships across all levels of production. We work with farms throughout California, Washington, Oregon, and Colorado to ensure a robust supply chain and consistent product potency year-round. 
Working with Area 52 means you can sleep easy knowing the products you're offering have were made with the level of professional care and attention you'd want for yourself.
This same philosophy is applied to our customer service team as well. You'll get a dedicated wholesale account manager to answer all your questions or concerns 7-days a week.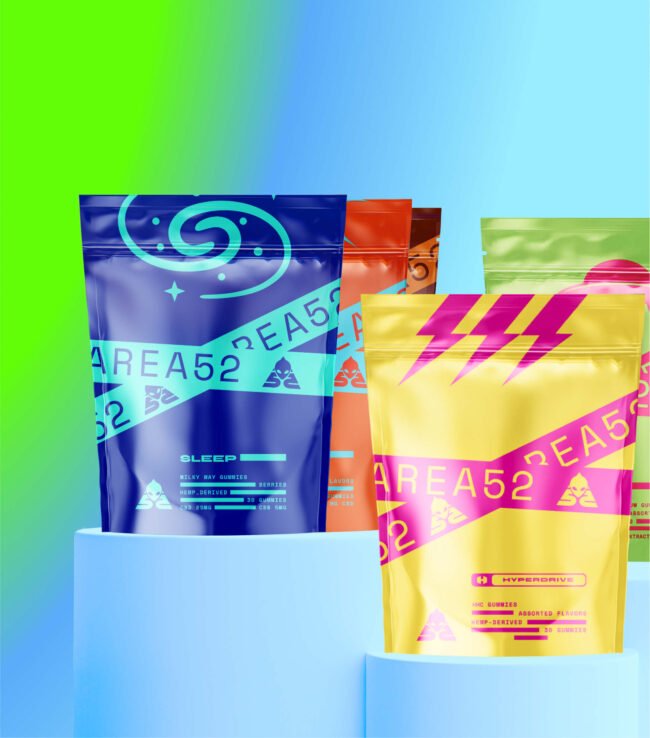 Buy CBD Wholesale in the United States
All hemp-derived CBD extracts are legal in the United States under the 2018 Farm Bill. Our products remain fully compliant within this bill, which allows us to ship products to customers in all 50 US states.
We also carry minor cannabinoids, but shipping may be limited depending on your zip code. Our team will work with you to find which products make the most sense depending on your unique situation and place of operation.
Our Products
We carry a wide range of products to meet your audience's specific preferences.
1. CBD Distillate
Our production team uses a combination of supercritical CO2, fractional distillation, and various other purification techniques to produce a pure, high-grade CBD distillate. This serves as the starting point for CBD oils, capsules, gummies, and so much more.
2. CBD & Functional Gummies
Our gummy machines are running 24/7 to churn out millions of CBD and rare cannabinoid-infused gummies and gummy formulations each month. Our production flow can fulfill any order size.
3. Broad-Spectrum CBD
Our broad-spectrum extracts don't contain any traces of THC. These products are great for vendors located in states with the strictest laws.
4. CBD Oil
Our CBD oil products are available in a variety of carrier oil choices, potencies, and flavors. Your wholesale manager will walk you through the process of selecting a CBD oil blend that works best for your audience. 
5. Custom Formulations
Have an idea for a new product but not sure how to get it started? Speak with your wholesale account manager to discuss options for brainstorming, procuring, and manufacturing your own custom formulation. 
6. Rare Cannabinoids
We do a whole lot more than just CBD. Our production facility is capable of extracting, isolating, and formulating all the minor cannabinoids, including delta 8, delta 10, HHC, HHC-O, THC-O, THCP, THCV, and more. 
Apply For A Wholesale Account With Area 52 Today
Sign up for a wholesale account using the form above. One of our representatives will get in touch with you to discuss the next steps.
Once you're approved, you'll receive a catalog with our product list, wholesale pricing, and an Area 52 partner coupon code to use at checkout when placing wholesale orders.