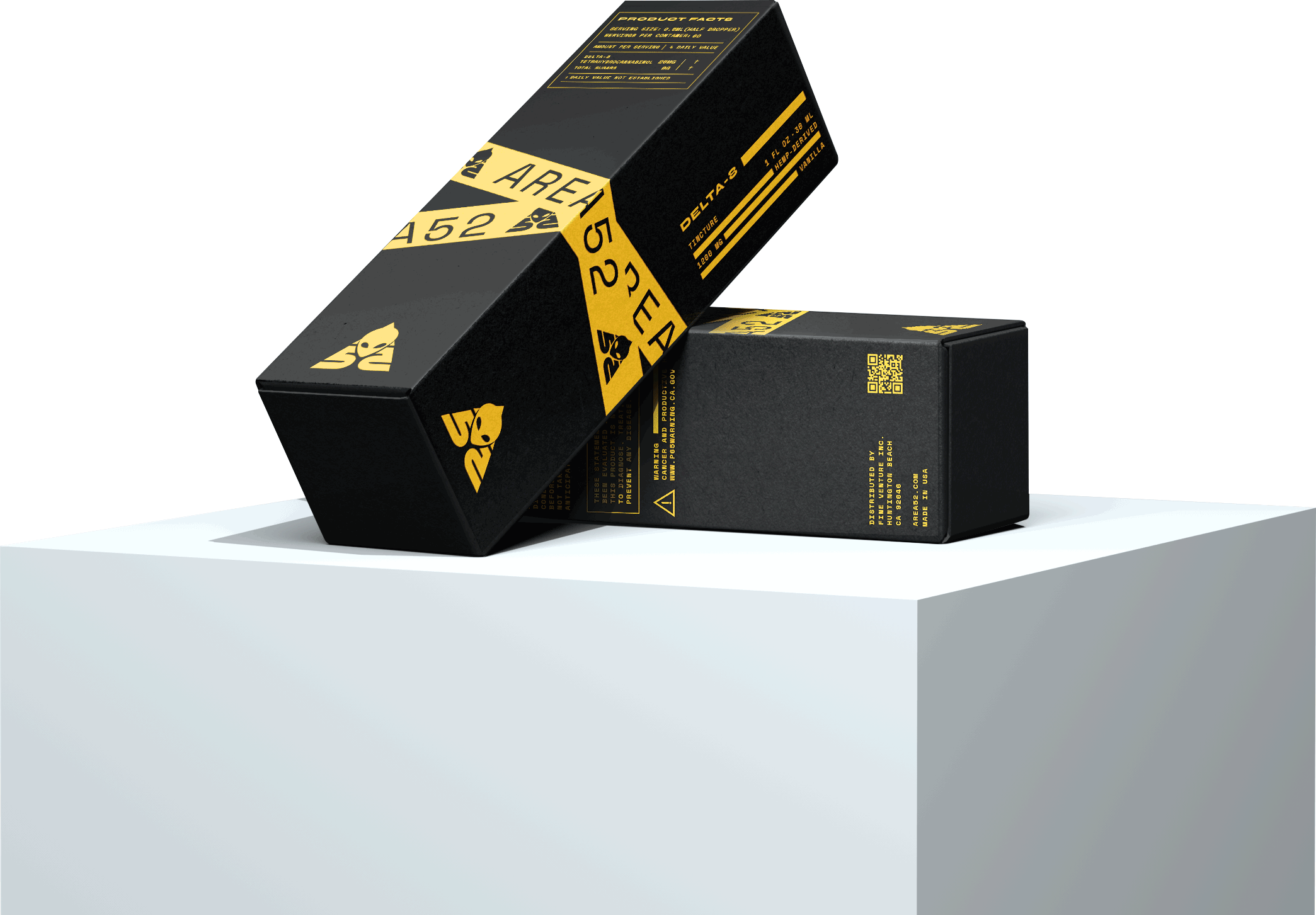 Delta-8 TINCTURES
Delta-8 Tinctures provide an effective and precise way to reap the benefits from this cannabinoid.
Since cannabinoids are fat- and alcohol-soluble, using Delta-8 THC tinctures improves their bioavailability, resulting in a more efficient delivery of the compound.
About Our Delta-8 THC Tinctures
The Area 52 delta-8 Tinctures come infused with 1200 mg of broad-spectrum delta-8 THC in a vanilla-flavored liquid for a more enjoyable administration. Our delta-8 extract is sweetened with stevia, underlining vanilla's character without added sugar and extra calories. The presence of other cannabinoids and terpenes help with effectiveness, creating the whole-plant synergy, a much desired effect among those who use cannabis for wellness.
This tincture comes from organically grown hemp that has been extracted using various processes like distillation, winterization, and decarboxylation to provide a pure and potent product.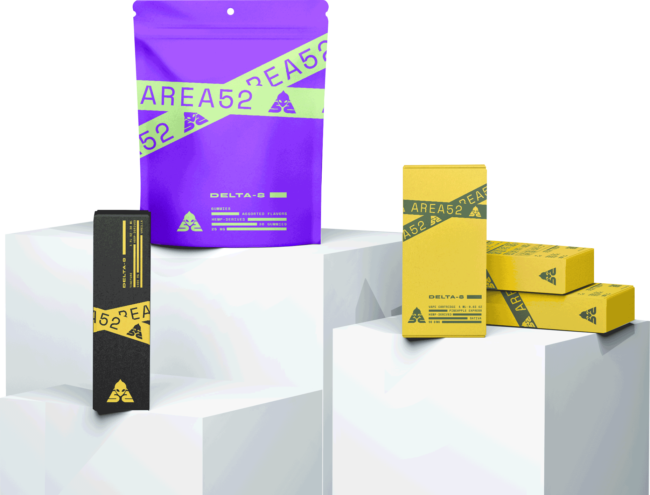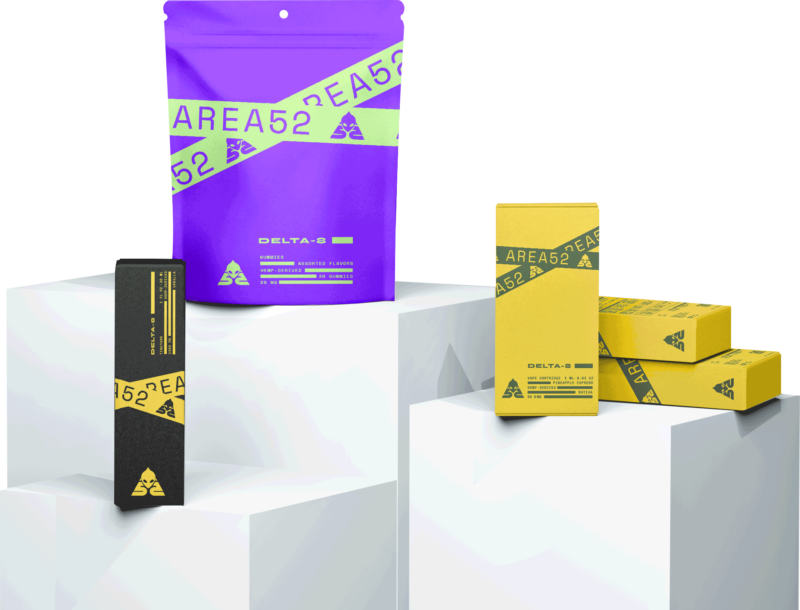 Delta-8 THC Tinctures FAQ
What Are Delta-8 THC Tinctures?
A tincture is a popular format of cannabis extracts. Originally, tinctures were made using ethanol extraction and have been broadly used for their health benefits and relatively fast-acting time.
The Area 52 tinctures are extracted from hemp plant and then further refined to maximize the delta-8 THC yields. Unlike CBD tinctures, delta-8 THC products are mildly psychoactive and thus should be taken with caution.
Most users also report a delay in the effects compared to CBD tinctures. Sublingual CBD can take 20–30 minutes to kick in, while some of the user reports are talking about a 2-hour delay. As a result, always start at the low end, gradually increasing the dosage to determine your tolerance and avoid the side effects.
How to Use Delta-8 THC Tinctures?
Our delta-8 THC tinctures come in dark bottles with a dropper attached for accurate dosing. The hemp extract is suspended in MCT oil for a smoother flavor and improved bioavailability to help you maximize the effects from a single serving.
Squeeze the pipette so that the dropper absorbs the desired amount of delta-8 THC. Take this dose under your tongue, holding it there for up to 60 seconds. From there, the tincture will absorb directly into the bloodstream through the tiny blood vessels in the mouth. Taking delta-8 tinctures sublingually helps the user to avoid the first-pass metabolism in the liver, so the effects take less time to develop than with delta-8 THC capsules or gummies. However, it still takes longer to kick in compared to CBD tinctures.
Most users report the effects last for up to 6 hours, peaking approximately 3 hours from ingestion.
How do Delta-8 THC Tinctures Make Me Feel?
As mentioned, delta-8 THC is a slightly psychoactive cannabinoid, although its effects are nowhere near those induced by delta-9 THC. Most users call D8 a "diet cannabis" or "cannabis light"; many of the effects and benefits of delta-9, although not as pronounced, are similar to delta-8 — including euphoric mood and appetite stimulation. Depending on the terpene blend used in a tincture, it may have more of an energizing effect or relax the consumer.
Given the moderately intoxicating effects, people using delta-8 THC tinctures should abstain from operating any machinery while using this product.
Are Delta-8 THC Tinctures Legal?
Delta-8 THC tinctures are legal under the federal law and many states accept it, as it is 100% derived from industrial hemp plants and do not contain any delta–9 THC. Delta-8 tinctures usually come as a broad-spectrum extract, featuring a distillate infused with terpenes. However, we do not guarantee that this product is legal in every state. Some states have local laws that stay in conflict with the Section 297a of the 2018 Farm Bill. If we find that our delta-8 THC tinctures are illegal in your state or territory, we may refuse shipping and provide you with a refund excluding any processing fees or time costs incurred.
Are There Any Side Effects of Delta-8 THC Tinctures?
To date, there have been no reports on any significant side-effects resulting from delta-8 THC consumption. That being said, delta-8 THC is a mildly psychoactive compound, so taking too much of it may result in dizziness, sedation, and fatigue. Similar to other cannabinoids, delta-8 THC may cause dry mouth and dry eyes.
How to Find a High Quality Delta-8 THC Tincture?
The majority of products that are relatively new and in high demand cause an emergence of companies trying to fill the niche. While some products are great and effective, others can provide you with nothing but profit-driven promises, lacking accredited certification and misinformation about the product's properties.
Ask yourself the following questions before buying a delta-8 THC tincture:
Can you see the full chemical profile of your delta-8 THC tincture, including its potency?
Is it extracted with CO2 or, at least, with alcohol? Many companies use cheap, aggressive solvents for extraction, thereby compromising its potential benefits.
Does the delta-8 tincture feature other cannabinoids and terpenes in the formula? Ideally you want to purchase a broad-spectrum or full-spectrum product to amplify the entourage effect.
Does the brand and its products have a solid reputation among consumers and provide actionable insight into how its delta-8 THC worked for others?
How to Store Delta-8 THC Tinctures?
Delta-8 THC tinctures have a long shelf-life. They can easily last for up to one year without losing significant potency if you store them correctly. Cannabinoids degrade due to exposure to air and light, so it's important that you keep your tinctures in a cool and dark place, such as a cabinet or office drawer. There's no need to store a delta-8 THC tincture in a fridge or freeze them.